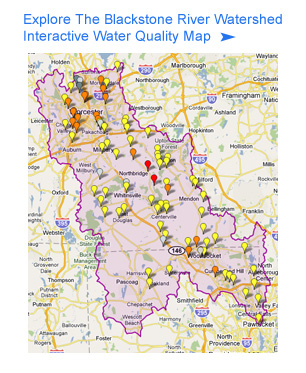 The Blackstone River Coalition (BRC) is a partnership of numerous organizations, businesses, agencies, municipalities and individuals working to restore the Blackstone River and to improve the health of the Blackstone River Watershed.
The BRC's mission is to restore and protect water quality and wildlife habitat in the river corridors, and to advocate for sound land use in the Blackstone River watershed.
A partnership of member organizations, the Blackstone River Coalition seeks to enhance communication, efficiency, and the interaction among community stakeholders, state agencies, and federal agencies as we work together to achieve our mission.
---
Cold Water Fishery Protection
The BRC has received $25,000 from Massachusetts Environmental Trust grant program to bolster our three project priority areas.
support of Year 15 of our award-winning Blackstone River Coalition watershed-wide volunteer water quality monitoring program
focus on MA cold water fishery streams in the Blackstone River watershed where we have long-running monitoring sites
conduct an education and outreach program in the cold-water fishery sub-watershed communities, including the four cwfs in urban Worcester (Tatnuck Brook, Ararat Brook, Coal Mine Brook and Poor Farm Brook), and the 9 cwfs in the mill towns of Grafton, Upton, Sutton, Northbridge, Douglas, Uxbridge (Cold Spring Brook, Centerville Brook, Cook Allen Brook, Miscoe Brook, Warren Brook, Meadow Brook, Emerson Brook, Bacon Brook, and the West River)
---
Support the Massachusetts Environmental Trust (MET) by registering for a license plate. MET is a supporter Blackstone River of the Blackstone River Coalition.
---
---
---

Blackstone River Coalition
P.O. Box 70477&nbsp Worcester MA 01607
info@zaptheblackstone.org
Send web comments to: web@zaptheblackstone.org
---