Members of the Blackstone River Coalition pose with representatives from local businesses in front of a street sweeper loaned by the Grafton (MA) DPW. The group was participating in the Blackstone River Coalition's In Business for the Blackstone workshop.
Clean and maintain storm drains and catch basins regularly.
Keep parking lot and loading area clean.
Design lot features that infiltrate, filter, or detain runoff.
Use environmentally-sensitive landscaping practices.
Ensure dumpsters remain closed and leak-proof.
Move stored materials indoors or keep properly covered.
Wash vehicles and equipment responsibly.
Conduct routine maintenance on vehicles to prevent leaks.
Make a spill response plan and clean-up kit accessible
Train employees on good housekeeping practices.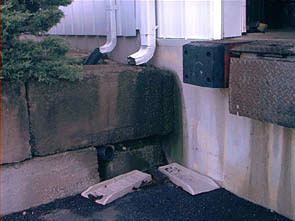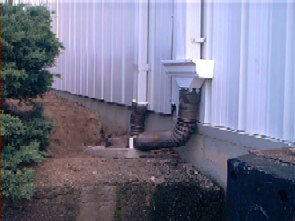 By redirecting a gutter spout toward a vegetated area, Lampin Corporation of Uxbridge, MA will prevent approximately 73,000 gallons of stormwater from flowing over the parking lot per year.
Rick Mongeau, Vice President, General Manager of Lampin Corporation signs the company's In Business certificate, with Program Coordinator, Dona Neely looking on.
Rick Mongeau, Vice President, General Manager of Lampin Corporation, and Dave Flynn, Shipper/Receiver, affix their In Business decal on the facility's door.
Representatives from the Millbury Credit Union, Blackstone River Coalition, Millbury Improvement Initiative, and the Millbury high school's Environmental Council gathered together to celebrate the credit union's award for participating in the In Business for the Blackstone program.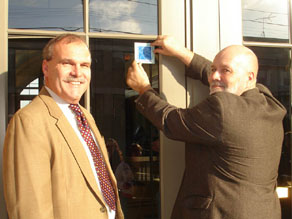 MCU's President, Joseph F. Barbato, Jr., and Facilities Coordinator, Wayne Cormier, proudly point to the credit union's In Business for the Blackstone program participant decal.
Environmental Council Advisor Terry Hamilton, Goretti's President Mark Goretti and In Business Program Coordinator Dona Neely, center left to right, along with store manager, Gary Francis, and controller, Kathy Crewe, (rear right) and the officers of Millbury High School's Environmental Council, celebrate the store's participation in the In Business for the Blackstone program.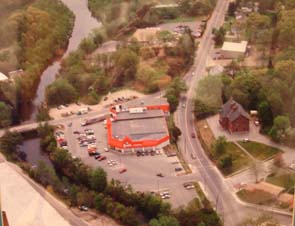 Goretti's Supermarket is located right along the River in Millbury, MA. The management team has made the commitment to be more "ecologically responsible" and to make "a greater effort to be aware of what is going into the Blackstone River."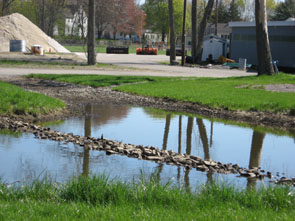 The Uxbridge DPW site incorporates several features that ensure stormwater gets filtered before it enters the Blackstone River nearby.
Michael Guzinski, Douglas Executive Administrator, and Bill Cundiff, Douglas Town Engineer, stand outside the door to the Municipal Center, which now displays the In Business for the Blackstone decal.
Fin & Feather, Upton, MA

Roots & Shoots Garden Center, in Burrillville, has been recognized by the Audubon Society of Rhode Island and the Blackstone River Coalition for its innovations to reduce runoff into a nearby tributary of the Blackstone River. This water lily is in a self-contained pond-like enclosure, where the water is constantly recirculated using a low-power pump. This eliminates polluted runoff.
Be In Business for the Blackstone
— Starting Today!
To learn more or to schedule a presentation,
contact Dona Neely at
dona.neely@zaptheblackstone.org
or 508-878-1728.
Photos taken by Donna Williams.